How To Choose A Ceiling Fan – Size, Blades & Airflow
With so many variables and options, choosing the perfect ceiling fan and picking the right size can be a bit daunting. We've compiled some expert advice that will guide you through choosing a ceiling fan fit for your needs.
Determining what type of ceiling fan you should add to your room of choice can seem like a surprisingly complex decision when you are first starting out. You need to consider the dimensions of your room, the size of the fan, airflow and CFM, the length of its blades, how many blades, their materials, and more.
Below, you can click through our table of contents to jump to the topic of your choice or read through to learn about how to choose the right ceiling fan for your home.
How do I choose a ceiling fan size that fits my room?
A: The first thing to consider when deciding your ceiling fan size is the size of the room in which it will go. The square footage of a room dictates how big the ceiling fan will need to be because a fan that is too small or big for a space will not circulate the air properly.
If you don't know it already, you can measure a ceiling fan's size by recording the diameter of its blade sweep, or from the tip of one blade to another straight across from it. If your fan has an odd number of blades, then measure from the tip of one blade to the center of the fan and double that number for your measurement.
Once you know how large your ceiling fan's size is, you will need to measure the size of your room.
Ceiling Fan Size Guide:
Fan Size
Room Size
Room Type
29″ or less
less than 50 sq. ft.
Hallway, Laundry Room, Walk-In Closet
36″
up to 75 sq. ft.
Breakfast Nook, Large Bathroom
42″
up to 100 sq. ft.
Bedroom, Office, Kitchen
52″
up to 225 sq. ft.
Master Bedroom, Dining Room, Patio Area
56″
Up to 400 sq. ft.
Large Living Room, Great
Room
In larger spaces, depending on the shape of the room, another option can be to go with two smaller fans.
When sizing a ceiling fan to your room size, you want a minimum of 18″ to 24″ of clearance on all sides of the fan.
How do I determine the hanging height of the fan?
A: To meet building codes, the bottom of the fan should be at least seven feet off the floor; eight to nine feet will allow for optimal circulation. For higher ceilings, you can use fans with downrods, such as the Ball Ceiling Fan, to achieve the right height. The more space between the ceiling and the blades, the better for air flow and circulation. Ideally, aim for at least 12 inches.
Low Ceilings: For rooms with ceilings eight feet or shorter, flush mount fans like the Cirrus Flush Mount Ceiling Fan from Modern Fan Company are the ideal option. As their name suggests, these fans "hug" the ceiling to create a low profile. In order to achieve their short height, these flush mount fans do not incorporate downrods in their design.
Average & High Ceilings: To hang a fan at the appropriate height in a room with a ceiling nine feet high or higher, a ceiling fan that uses a downrod is the right fit. A downrod ranges from 3 to 72 inches in length and is what  suspends the fan from the canopy. This is ideal because more space between the fan blades and the ceiling will result in better air circulation.
Fans will typically come with one or two downrods, in different standard lengths. However, if more length is needed to achieve the ideal hanging height, additional downrods in other sizes can be purchased. For a room with a 9-foot ceiling, select a fan with a 6" downrod. For ceilings that are taller than nine feet, add 6" to the downrod for every foot of height: 10-foot ceiling, 12″ downrod; 11-foot ceiling, 18″ downrod; and so on.
Can I install a ceiling fan if I have a sloped ceiling?
A: Aside from hugger fans, most fan canopies (the part that attaches to the ceiling and covers the junction box) can accommodate some degree of slope-usually up to 30 degrees. An additional longer downrod may need to be purchased to ensure enough blade clearance. For steeper slopes–or in cases where sloped ceiling installation is explicitly not allowed–manufacturers offer sloped-ceiling adaptors, often called angle mounts.
Do I need a special ceiling or junction box to mount my fan?
A: Yes, ceiling fans need to be mounted to junction boxes marked "For Use With Ceiling Fans"; because fans can weight up to 50 pounds and are in motion, these help provide proper support. The boxes should be anchored to a ceiling joist, and installation by a licensed electrician is advisable.
Can the fan also light my room?
A: Most fans come with light kits or will offer a compatible option. A great consideration, they will provide overhead ambient illumination, but may need to be supplemented with other fixtures. Ceiling Fans can also be ordered without lights if preferred.
Can I use a ceiling fan outdoors?
A: Yes, as long as the Outdoor Ceiling Fan is damp or wet location approved. Damp location fans can be used under covered porches and patios where they will not come into direct contact with the elements. Wet location listed fans such as the Concept I Wet 52 Inch Ceiling Fan can be used in locations more susceptible to water contact. These feature water- and weather-resistant motor housings and blades, and some are equipped with waterproof light kits to provide additional lighting outdoors.
Q: How does a ceiling fan work?
A: In its most basic sense, a ceiling fan works by rotating pitched blades. The pitched blades create air flows that produce better air circulation, thus helping "cool" the body. The cooling sensation is, of course, only due to the movement of the fan. While it may enhance the effectiveness of your A/C or heating system by circulating that cooled or heated air, a ceiling fan on its own cannot actually change the temperature of a space.
There are several different factors that play in a well-functioning fan. You now know how to size your ceiling fan to your room. The next few questions will teach you the different ways to control a fan, what airflow and CFM are, and why DC Motor Fans are becoming more common.
Q: How do I control the fan?
A: There are three ways to operate a fan: a pull chain, a handheld remote or a wall control.
Pull Chain: The pull chain is located right on the fan and provides an easy way to adjust the speed and turn a fan on and off (and its light, if it has one).
Remote: The most convenient of all fan controls, handheld remotes allow for the fan to be operated from anywhere in the room.
Wall Switch: Wall controls are as convenient a way to operate ceiling fans as a light switch is for a lamp. If installed next to a doorway, the chance of forgetting to turn off the fan when leaving a room is greatly reduced.
In some instances, you can have the best of both worlds with a remote control and wall switch combo, or a remote control that can be wall-mounted.
What is CFM and ceiling fan airflow?
A: Airflow quantifies the amount of air a ceiling fan delivers and is measured in CFM which stands for cubic feet per minute. CFM measurements are taken when a fan is on high speed, then that number is divided by the watts used. This means that the higher the CFM, the more efficient the fan, and the more air it moves. 75 cfm/w is the minimum to be considered efficient, according to Energy Star requirements.
The Environmental Protection Agency requires that all ceiling fan manufacturers put the following graphic on all their boxes, brochures, catalogs and such, so that you will have an exact understanding of the power behind your fan:
At a glance, this information helps you to gauge a ceiling fan's airflow and efficiency. This makes it easy to compare two or more fans of similar size. But what CFM is best?
On high speed:
Good CFM ranges from 4,000 to 5,000
Better ranges from 5,000 to 6,000
Best is over 6,000
What is a DC Motor ceiling fan, and what are its benefits?
A: DC motors are a new addition to household ceiling fans that generate additional torque while consuming less than 70% of the power of a typical ceiling fan. They do this by transforming electric energy into mechanical energy as they rotate.
DC motor fans have a slightly higher upfront cost than regular ceiling fans since they need a more expensive electronic speed controller. However, their benefits more than make up for it. These benefits include:
Virtually silent operation
Much smaller motors that result in smaller, lighter fans
Efficient energy use that prolongs the fan's life span
Higher torque resulting in faster startup speeds
The possibility for up to 6 different speeds
In cases where lighting is included, DC fans typically utilize LEDs, which only add to the fan's energy efficiency.
What should I consider when picking ceiling fan blades?
A: The number of ceiling blades is often an important point in deciding what type of ceiling fan to purchase, but this is becoming less of a question of function and more of personal choice with advancements in technology.
It used to be the case that a five- or six-blade ceiling fan would translate into more efficiency as opposed to a three blade or four blade, but that's no longer the case. Since the CFM is the measure for a fan's airflow efficiency, the number of blades is more related to embellishing the style for your space. For example, a four or five blade ceiling fan provides a more conventional, balanced look, whereas a fan with two or three blades possesses a modern and sleek style.
How do different blade finishes affect their function?
A: Choosing the finish for your ceiling blades will largely be dependent on what room it's going in and what your budget is. The four main blade materials and their unique advantages are:
1) MDF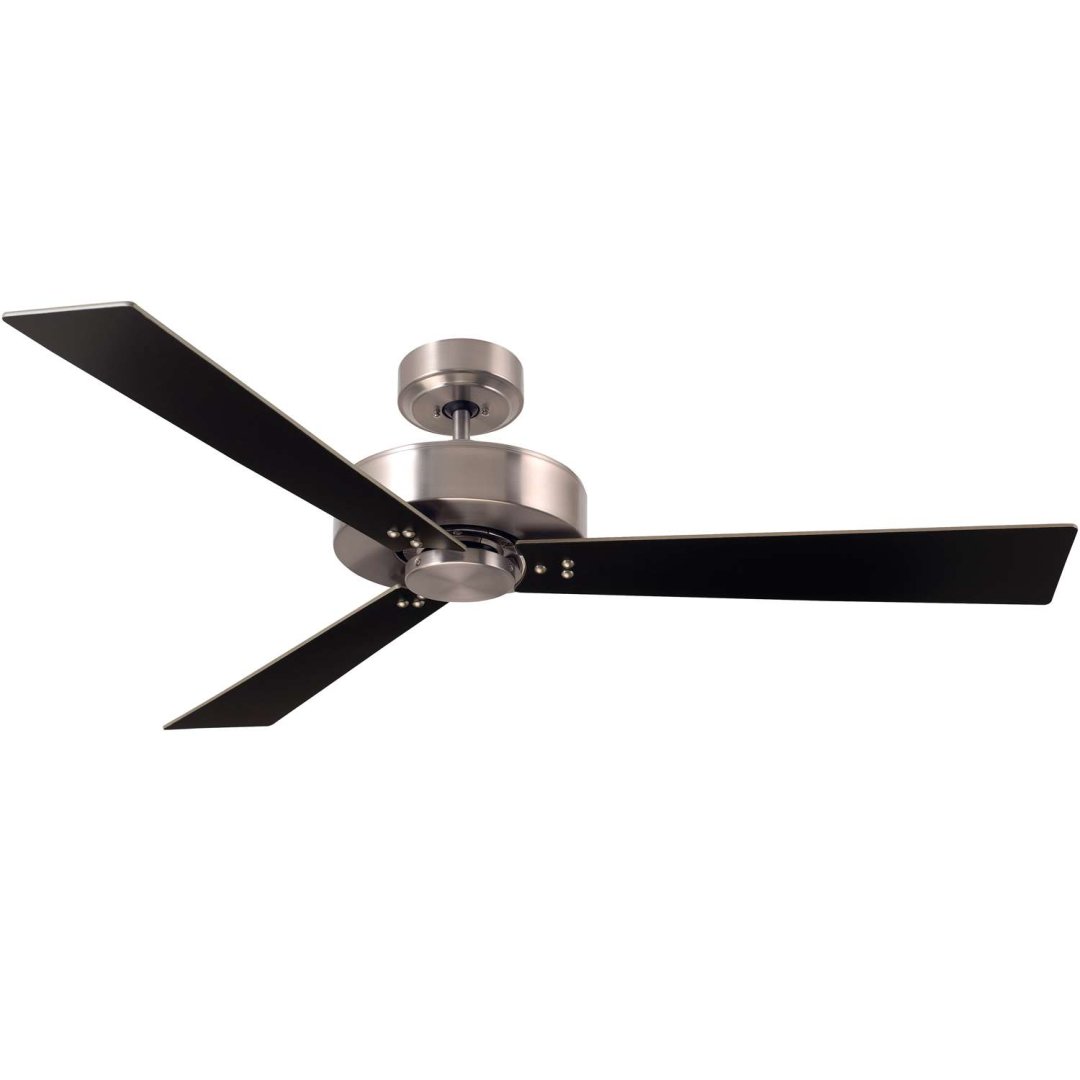 With medium density fiberboard (MDF) blades, sawdust and other wood remnants are compressed together with a hardening material. Then, a laminate (a sticker) is put over it to protect it and give its finished look. This type of blade is the least expensive and so is generally used for inexpensive fans, but not always. It does not hold up well outside; if there's any moisture, the blade will start to droop fairly quickly after being installed. But in dry indoor locations, these kind of blades work great.
2) Plastic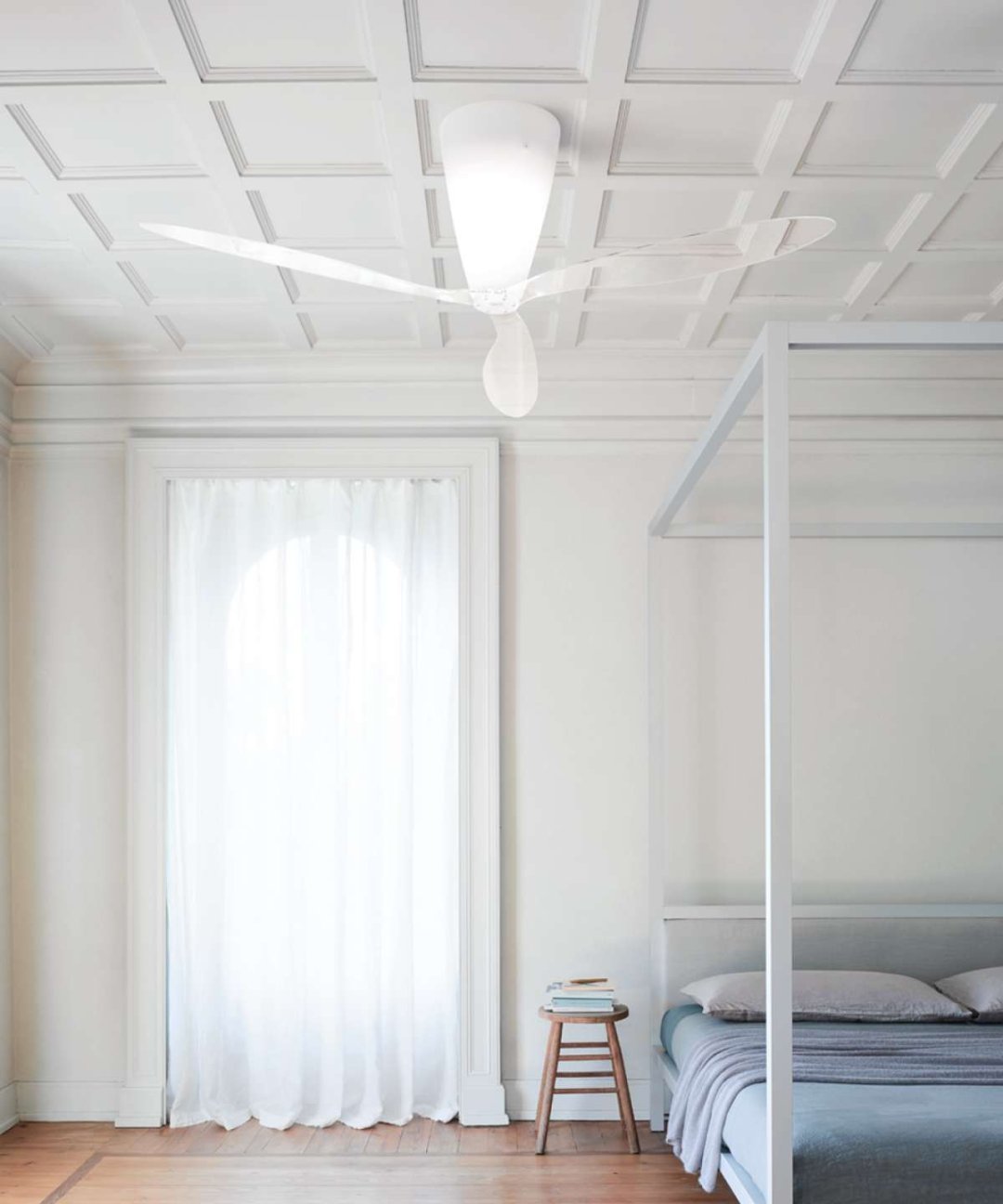 ABS plastic is used in a lot of fans, mainly because it is easy and inexpensive to manufacture. Plastic can be molded into almost any shape and can be finished to look like real wood. And ABS blades hold up well outside.
(Note on reversible finishes: Blades that offer two different wood finishes are usually able to do so because of two different laminates being applied on either side. That being said, ABS blades can also be made with two different finishes. So, while reversible blades are most likely made out of MDF, it's not a hard and fast rule.)
3) Wood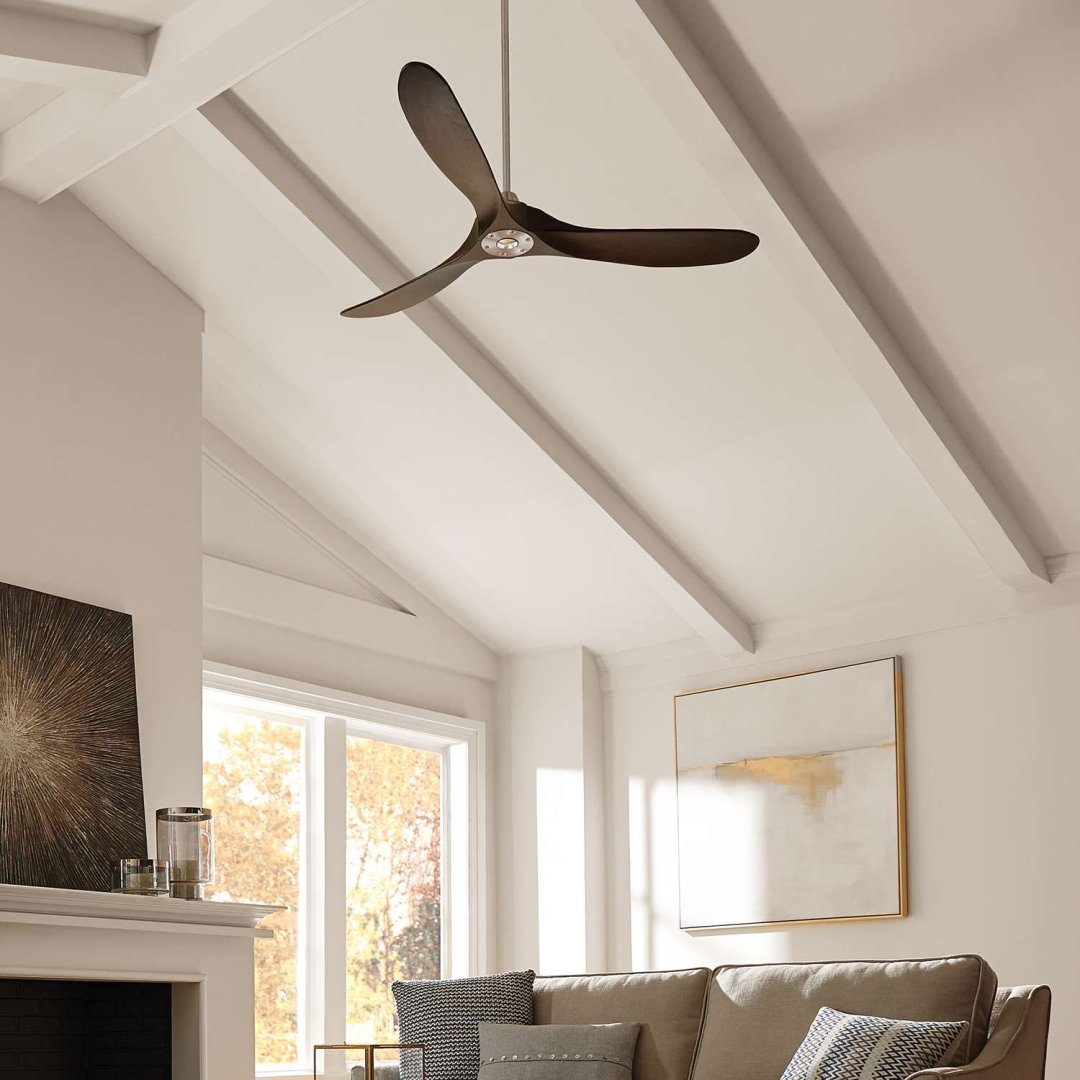 Wood is best for indoor applications, but it will also work for outdoor damp. Sourcing and processing natural wood into fan blades takes more effort and cost than other materials. So generally, when a fan has "real wood" blades, it is a premium fan. Most wood blades are balsa wood–which is solid, but lightweight and aerodynamic–although other types can be used as well. Visually, real wood blades tend to have a carved look, with a thicker profile than standard flat blades.
4) Metal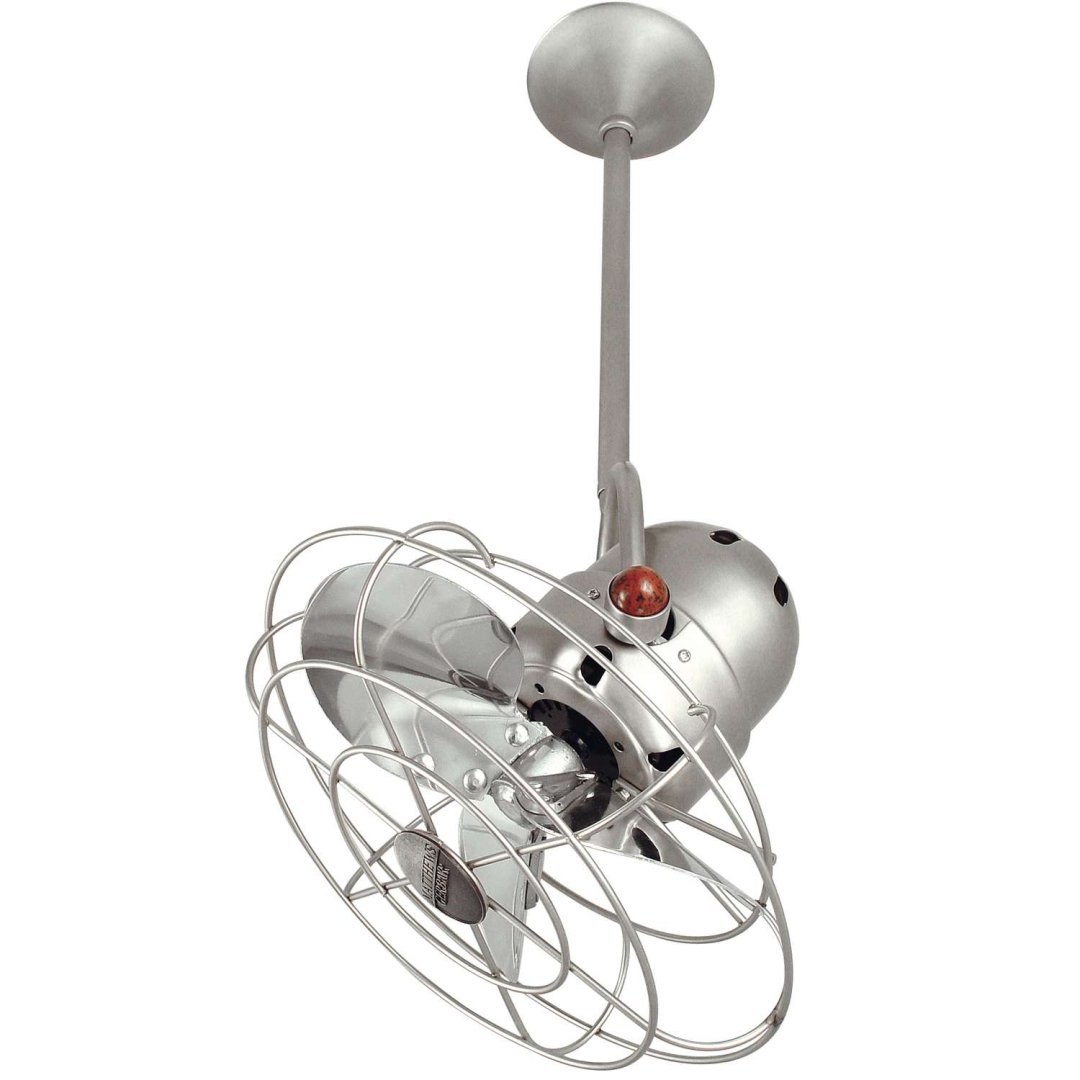 Metal is best for large spaces where the fan is high above the floor. By code, they are supposed to be hung at 10′ or higher. Metal fan blades are also good for outdoor damp and outdoor wet applications. That said, anywhere near the ocean and they will rust. Even a "marine grade" version will eventually rust. (However, customers who live in this environment usually know this!) Metal is also a popular blade choice with smaller oscillating ceiling, wall and portable fans. For safety purposes, assuming they could be within reach, these are usually equipped with a protective cage.
More refer:
Honeywell Ceiling Fans 50614-01 Carnegie LED Ceiling Fan 52″, Indoor, Rustic Barnwood Blades, Industrial Cage Light, Matte Black: https://amzn.to/3uCAxj8
Hunter Dempsey Indoor Low Profile Ceiling Fan with LED Light and Remote Control, 44 Inch , White: https://amzn.to/3f4gIuQ
Thanks you for watching !